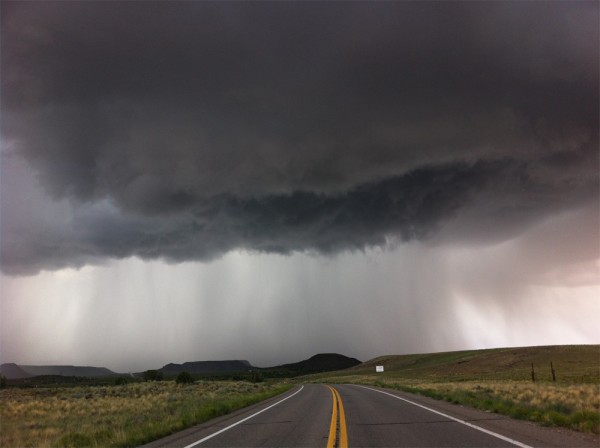 Not more than 15 minutes earlier, I had been standing at the geographic center of the Southwest (as regarded by some with geographic proclivities)- the Four Corners Monument- the only place in the United States where four states met at a symbolic point. When I was there, after waiting in a short line to take my place over the round bronze plaque on the ground symbolizing the meeting point of New Mexico, Utah, Colorado, and Arizona, the sun was bright and a light breeze blew, pushing the flags over the site lazily to the southwest.
There were signs, thought.
The muted crackle of thunder calling to us from the south. The dark clouds collecting in the distance down there.
My spontaneous visit to the unique-landmark-made-into-a Navajo-market-quad ended with light delight. I chuckled at the short line of cars waiting in line outside of the entrance station. Five dollars now, to stand in line to get to the X on the ground, and then shop for jewelry and pottery, if you are so inclined. Still, the novelty of the place was enough to make me stop. Why shouldn't they?
When I left the monument to get back down the road 5 miles to get back on Highway 64 heading for Shiprock, the wind suddenly came up from the south, and the dark bank looked ominous ahead of me.
That was the view.
Not soon after, sprinkling began, followed by a brief heavy dry rain that made vision cloudy and abbreviated. And then the hail began.
And at that, I could not see the road. I could not see 10 feet in front of the truck, nor 10 feet behind it.
I was already dring slowly, but now I had to stop. But I was afraid of being plowed into by unseen traffic behind me.
I inched ahead for a minute or two, the falling hail making a deafening roar on the roof of my truck cab. I tried to see through the falling ice, until a brief let up let me see there was enough road shoulder to the right that I could get out of traffic.
Soon, another slow moving with dimly visible flashers was behind me, and it followed my lead, pulling halfway off of the road.
The hail continued for another 3 or 4 minutes. When it died down, it went back to a heavy rainfall. There was a line of eight or nine vehicles stopped behind I and my following mate.
It was an intense storm, and I understood how flash floods could come up quickly in the desert after experiencing it.
The line of cars started moving slowly forward again from behind me, passing me, pushing cautiously on into the opaque whiteness before us.
I joined the moving train again as the caboose as the heavy rain lightened.
And within 5 minutes, we were all also out of the storm.