I was fortunate enough to have some time off available to burn at work, and an offering of generosity to nudge me to get me on the road the first weekend of March.
About two weeks ago, a work colleague I talk regularly with about all kinds of sports let me know she and her husband were heading to Phoenix for Spring Training games in a few weekend because one of their daughters worked for the Anaheim Angels and had got them some tickets. She mentioned the first game they were going to was the Angels versus the Cubs. Half joking, I asked "Can she get one more ticket for that one?" A few moments later, and her answer to me was "Yes".
And so the Arizona Tour of Spring 2018 came together.
It was a full schedule for four days and involved a fair amount of driving, but it was a treat and a gift all the way around. I was able to visit a few historical sites I wanted to that related to my interest in Anza. I got to see a spring ballgame. I saw airplanes. And I saw plenty of good scenery.
The tour went as so…
Thursday, March 1 • Albuquerque to Camp Verde to Jerome to Prescott
The route was chosen with the hope of seeing some interesting scenery on roads I had never (knowingly) been on. The drive was decent and mundane up until Camp Verde, where I stopped and learned I was in the vicinity of Montezuma Castle, a set of old ruins I had seen pictures of before, but had had no idea what or where they were.
After a nice stop at the ruins, my drive took me up through Cottonwood to the mountaintop ghost town of Jerome- a place I wished I could have stopped at if it wasn't already so lat in the day. Jerome looked like an old Sausalito on a mountaintop, with homes stacked on top of each other as they approached the top of the hill. I did stop for a few generic photos and a surprise moonrise shot which I had to capture once I was up and out of the town limits because there was nowhere on the road out of town to pull over to take pictures.
I descended in darkness on switchback roads into Prescott Valley, and then into the town of Prescott proper, where I stayed at a quaint old inn, Hotel Vendome, about two blocks off of the downtown square and Whiskey Row.
After a long-needed restroom break, I walked around the downtown courthouse block and found a good Italian restaurant, Rosa's, where I ended my day with sausage and penne in a hearty pomodora sauce.
Friday, March 2 • Prescott to Watson Lake to Phoenix to Tucson
One reason I went to Prescott was because of photos I saw on Flickr posted by a local photographer from there. I knew one of the subjects she used in her photos was a place called the Granite Dells, which stood by a lake within the town.
I woke up at 5:30 on Friday morning and left the hotel before sunrise to find Watson Lake (on a hunch) and hopefully an easily accessible place for some HDR photos. My hunch was right, and I stumble upon a normally closed park open, and her wonderful lake of fascinating rocks. I had a chance to do a thorough photo shoot of the serene and silent spot, using my tripod, manual mode settings, multiple HDR exposures, and the glowing light of a rising son on rocks and water. It was an ideal experience, and I was pleased with the photos I was able to capture.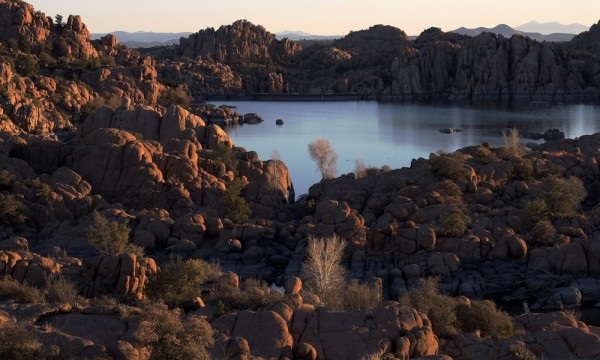 But I had to be in Phoenix for Spring Training events by 10AM, so by 7:30 I was in my truck and on the road south on I-10E headed for Tempe.
My Spring Training experience could not have been better. I joined Dolores (my colleague) and her husband and daughter on field to watch the Angels take batting practice. I was given a baseball and a Sharpie, and I ended up getting autographs from Cubs skipper (and pilot of the 2016 World Champion team) Joe Maddon and Cub slugger Kyle Schwarber.
We sat low off the third base line for half of the game, where I could take photos of my favorite players at bat and on the bases. We retreated to a group pavilion high over the first base side of the stadium where we enjoyed hot dogs and cool shade and the rest of the game. And I ran into Cub television and radio broadcaster Len Kasper in the elevator taking us down from the club boxes circling the ball park up high, to whom I muttered a bland greeting as a Cub fan.
The game was a treat all the way around.
After the game, I hopped on I-10 again and in the early evening heat headed on south to Tucson, where I stayed at the family home of a friend who used to be in the youth group I ran at Del Norte Baptist Church some 25 years ago. They were gracious to put me up despite a toilet recently flooding the ground floor of their house, requiring rooms to be fanned out and flooring, carpet, and drywall torn out to stave off water damage issues.
Saturday, March 3 • PIMA Air and Space Museum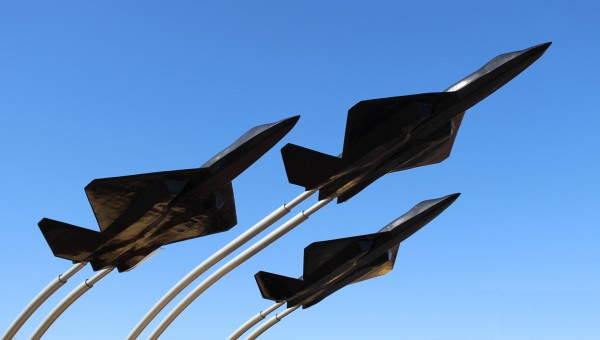 I had planned to do a few activities in Tucson on Saturday, but in short time I knew that was unnecessary. My day was pretty fully spent at the PIMA Air and Space Museum in south Tucson.
One of my original interests in visiting Tucson was the possibility of visiting "the Boneyards" there- the airplane graveyard that is a massive display of America's history with flight. I learned that without a clearance and a pass requested and cleared a month earlier, a Boneyards bus tour was not possible. But I also learned in turn that the PIMA museum not only had 5 hangars of historic aircraft, but also nearly 200 unique planes sitting in a giant yard on the grounds that you could walk among and around.
Arriving at the museum shortly after it opened for the day, I was already given a gift in the air.
At nearby Davis-Monthan Air Force Base, vintage and modern aircraft flew together in formation and alone performing displays of skill as their pilots practiced to received certification to be stunt and show pilots in air shows across the country this year. Several planes would go up and fly around for sessions together all day as I was touring the museum grounds.
I soaked up the sun and took photos of planes outdoors for several hours before the afternoon heat guided me into the hangars where planes rested on the ground or hung from the ceilings and displays explained their significance as notable civilian or military aircraft. Among the mix were even foreign war craft, including a range of Russian MIGs, a Japanese Zero, a Messerschmidt BF-109 fighter, and a Focke Wolf FW-44. Among the vintage American planes, I was delighted to see featured an SR-71, a B-24, a B-25, a B-29, WWII fighters, flying boats, and early jets. My favorite planes are undoubtedly the World War II aircraft. I had read a Curtiss P-40 Warhawk was on display at the museum as well, but, alas, it was off being restored onsite somewhere.
The crowning display of the museum for me was a building dedicated to the 390th Bombardment Group of the 8th Air Force which served during WWII in England, and that featured its main weapon during the war- the B-17. A restored plane, "I'll Be Around", sits at the middle of this facility, and the museum does a great job sharing stories about what life was like for the men who worked on and in these planes during the war years.
At the end of my museum tour late in the afternoon, I left the museum to watch a few more aircraft dance in the sky for 15 or 20 minutes before I went back to meet my hosts for a good Mexican meal.
Sunday, March 5 • Tucson to Tubac to Albuquerque
Since I was in Tucson, I had to go visit at least one historical site related to Juan Bautiste de Anza since he had been a figure in the area nearly 250 years ago. And I thought it would be one place I'd visit. According to my clock, if I got down to the San Xavier de Bac mission and left by 12, I'd be back home in Albuquerque by 8PM or so that evening.
San Xavier Mission was a significant stop for me related to the Anza story because the Anza expedition stopped there for the night on the third day of their journey, 8 years before the current mission erected their now began construction.
Oh well.
I drove on down toward the San Xavier Mission, and after making an exit in south Tucson to get gas, I was surprised to stumble upon THIS…
And I had to stop for a #2 Christmas (sausage burrito with red and green chile), naturally.
I continued on down to the mission and photographed around the outside of the famous building and then within its sanctuary between morning masses. I had to climb the adjacent grotto hill and visit the shrine set up in the rock on one side of it. The church was busy with Sunday service visitors coming and going and tourists like myself joining them.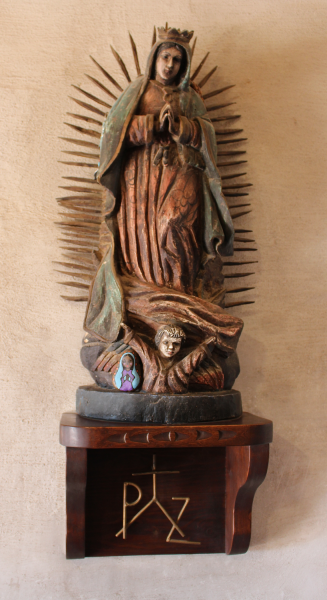 Since I was already down there, I knew there was a second Spanish mission another 30 miles south that was also near a key Anza site in the town of Tubac- the national park set up to share about the Spanish presidio that was once also there.
I drove south past the little town an old aunt we used to visit had lived in, Green Valley, and I went to Tubac and visited the presidio. It was necessary for me to stop there because Juan Baptiste de Anza, the Spanish explorer and military man I am fascinated by, had been captain at this military outpost from 1760-1776, before he began his westward expedition in 1775.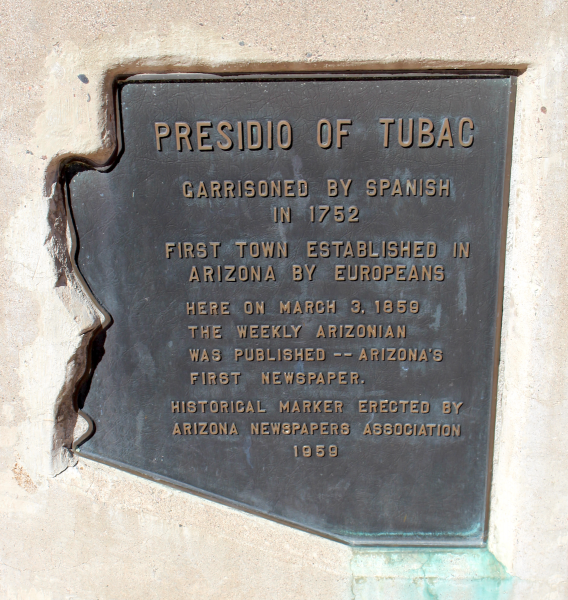 The presidio monument does not feature any standing old Spanish fort structures because the buildings were built upon a few times over the years, but a short descent to an underground room lets you see portions of remaining walls from the old fort structure uncovered and preserved by archeologists. You do see, however, the old fort's outline laid out in stones on the park grounds, and several other historical structures related to the location. And a museum on site displays many items recovered here from the period of Spanish occupation. I took a hundred pictures of items and placards and maps in display cases which told the story of the Tubac presidio.
Mostly, I was glad to be at a location that Anza had also certainly been at.
Noon pushed into midday. Oh well. I was already there and I might not get back there any time soon.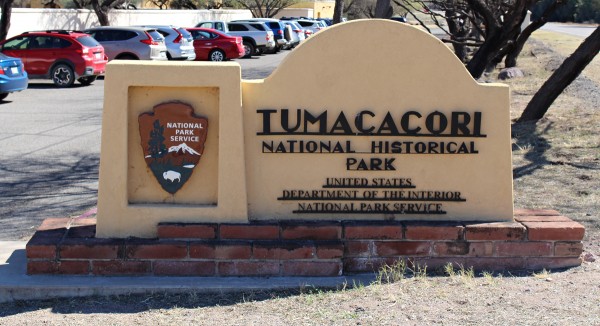 Four miles south of the presidio park was Tumacácori National Historical Park, home of the San Juan Mission, and the place where, after an hour and some tour, I met Rick, a park ranger with exhaustive knowledge about, and a deep interest in, Anza. Rick gave me 40 minutes of history, book selections, guidance on trusted authorities about Anza and the Spanish's presence in the New World, insights about the local area, and several printed copies of writings he had done on Anza topics. And he gave me his email address.
The chapel at the mission is in rough shape. But it's an interesting historical site to visit.
Rick told me that before I drove home, I needed to go back up to Tubac and to stand in front of St. Ann's church, right next to the outline of the presidio in the national park, and to look down the street in front of the church, because that is where Anza stood and was blessed before he and his expedition set off north in search of a passage to the California coast.
I went back to Tubac and stood in front of the church. I went down the road before it to the trailhead by the river and saw where Anza and his expedition party of 240 people set off north on October 23, 1775, to find California.
By this time, it was 5:30 in the afternoon, and I had well overshot my anticipated departure time to get back to Albuquerque. The air was cooling in the late afternoon light, and I-10 was calling. I needed to get home.
I left Tubac and got on the freeway and ate an apple and turned on an "In Dubious Battle" audio book CD, now about a third of the way completed, on the car stereo. I listened to the story as the sun fell and the sky reddened behind me and I passed through Tucson and then across te state border as darkness set in, and I drove, stopping for gas and coffee and a bathroom break, on through Lordsburg and Deming and Las Cruces, listening to Jim and Mac trying to foment a strike among the apple harvesters in the California valley before it, and they, were beaten down, until the lights of Albuquerque appeared in the distance and then raced around me as the truck pushed on, and soon my truck was turning up Paseo del Norte as the book on CD ended.
1:47, Monday morning, I am home. Thanks, Arizona. Good night.