I thought it was a good idea at the time.
After all, the shoes I was wearing were probably 5 years old, and the stitching was coming out of the upper sections. There was a hole clear through the sole by the ball of my left one. There were new air conditioning slits on the sides of both shoes where the upper had began separating from the midsole. The leather on the sides and the toes of each shoe were scratched and pocked by cat attacks with teeth and claws.
My shoes were done, and I needed a temporary replacement. After all, it was rainy out this evening, and using these shoes would let water soak my left sock.
In the back of my mind, I recalled placing an older version of this pair of shoes in a box for storage prior to the time I had bought these. The older version was also beat up, I knew, but I thought maybe not as badly as this.
When I finally came home from work, I had a good idea where that storage box was in the garage. I took two other boxes off of what I thought it was, and I opened up that box.
And lo and behold, there was that pair of shoes I remembered on top inside of it.
I removed the older pair from the box and scanned over the leather uppers, and this pair of black Ecco's still looked great.
Without thinking much about it, I took off my current decrepit pair and put them aside. I put on the old pair and they felt mostly pretty good. I kinda thought I was smart and had found life left in the old set.
I went out in the garage, got in my truck, backed it out of its cave, and then closed the garage door and drove to the story.
I walked across the wet lot at the store after I parked, and entered the store, headed for some grocery items.
And then the bottom of my shoes felt kind of weird.
I looked down.
There, behind me, was a long flat slab of plastic.
And behind it was some black plastic cubes.
I looked at the bottom of one of the shoes on my feet, and to my surprise, it had a long chunk of plastic sole missing from it.
And the more I walked, the more black pieces fell off of my shoes onto the market building's floor.
In a panic, I wheeled around and left the store and trotted to my truck, shedding sole as I jogged, and drove down the road to Target- the nearest retailer open that might have a shoe option in that area of town.
Now shedding briquettes of soul material in Target, I reviewed the bottoms of each shoe.
And the soles and heels were crumbling and ready to be gone.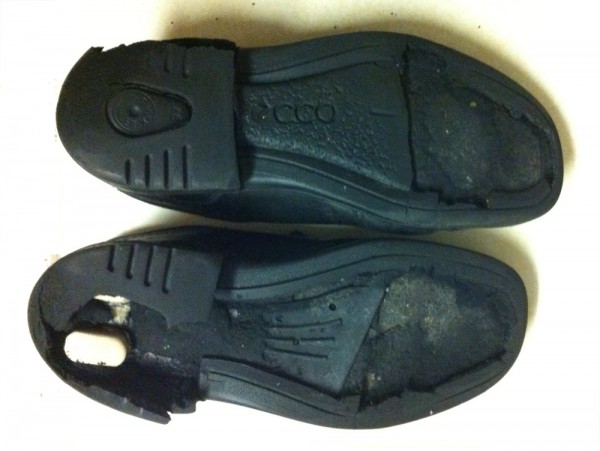 I loved those shoes.
I guess that's what 5 years of hot and cold in a garage do to a retired shoe. It turns the sole material to black drywall.
I was happy to find a pair of brown semi-dress Merona shoes at Target to get me by since my Ecco's were destroyed and unusable. They were comfortable and semi-stylish.
And best yet, they were on clearance for $10!