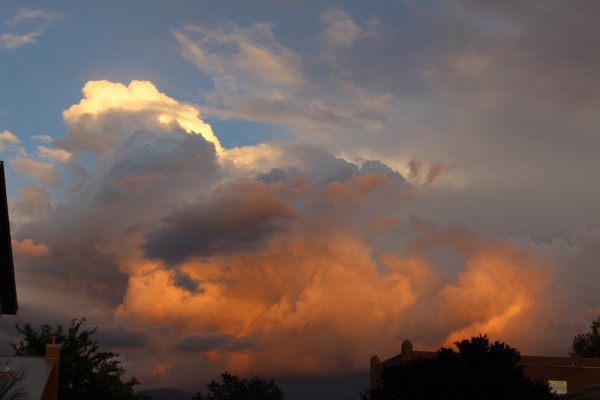 Tonight I came home and did my usual exercise of minimalism. I came home and made a sandwich and turned on the TV to watch Arizona play Colorado for the wild card slot in the National League playoffs.
I went outside around 6:30 and the sky was luminescent to the west but already dull to the east, except for a bank over the Sandias, which was fiery rosy orange. I took a few photos, because I am always fascinated with clouds, which is interesting. Clouds are dynamic semi-structures, transient in formation and dissipation, and to a great extent, immaterial And yet they create such dramatic, intense, and inspiring imagery hanging out or motor by over our heads. They are insubstantial, and yet leave such remarkable impressions on us.
The game started appearing to be an all Arizona affair, but Colorado did not quit, and coming into the middle of the 8th were down to Arizona 8-7. Both starters of commendable records in the regular season were done by the third inning. It's a ballgame.
I sit on the couch. I look for a snack. I pet a cat. I try to think of topics to write about. I check my email. I wonder about people I know in the quiet of my mind. I feel anxious about my life. I watch the game, I eat snacks, I feel anxious.
At least I am not alone.
My neuroses keep me company at home.
I have to change how I live at some point. Or accept it. One of the two.